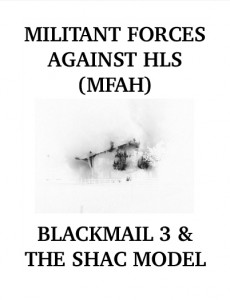 PDF: MFAH, Blackmail 3 & The SHAC Model
November 2014 re-release of original zine with Dark Matter Publications initially hosted by 325 in June 2014: An animal liberationist zine about the fight against Huntingdon Life Sciences (HLS).
For the first time these 24 communiques from 2009-2012 of MFAH direct action in Western Europe have been compiled for your reading pleasure, alongside articles on the Blackmail 3 case, as well as a critical analysis of the SHAC Model. The inspiration for producing this zine proceeded the imprisonment of Debbie Vincent. The section on the MFAH is dedicated to Darko Mathers.
Re-release contains updated prisoner address for Debbie Vincent and details removed about Walter Bond's pro-life stance in 2011, after his political u-turn in 2013, which unfortunately we were unaware of. Our apologies to Walter Bond for our lack of research and solidarity on the subject.

Person(s) Unknown Publications