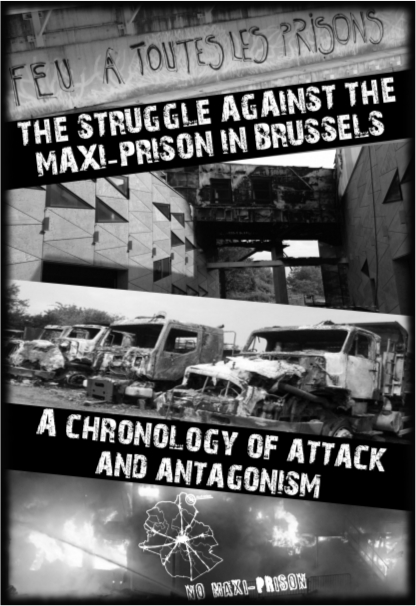 PDF: high res | low res | imposed
The Belgian State has been announcing it for some time: building 13 new modern and efficient prisons.
As part of this new master-plan the State wants to build a maxi-prison in Haren, northern Brussels. It is intended as the largest prison in the country, a genuine prison town that would include five different prisons on the same terrain. It would then lock up at least 1,200 men, women and children.
With the fight against the construction of this monstrosity raging on, this 48-page publication features analysis and a chronology of attack from the past two and a half years of struggle against this project.
Contents
– No new prisons, no maxi-prison in Brussels!
– The struggle against building a maxi-prison and the offensive of power
– No maxi-prison, not here, nor anywhere!
– Let's rebel against the construction of a maxi-prison
– On your marks, get set, go!
– To the undesirables
– Break the ranks
– For the insurrection
– Sabotage
– To the uncontrollables
– Chronology of attack & antagonism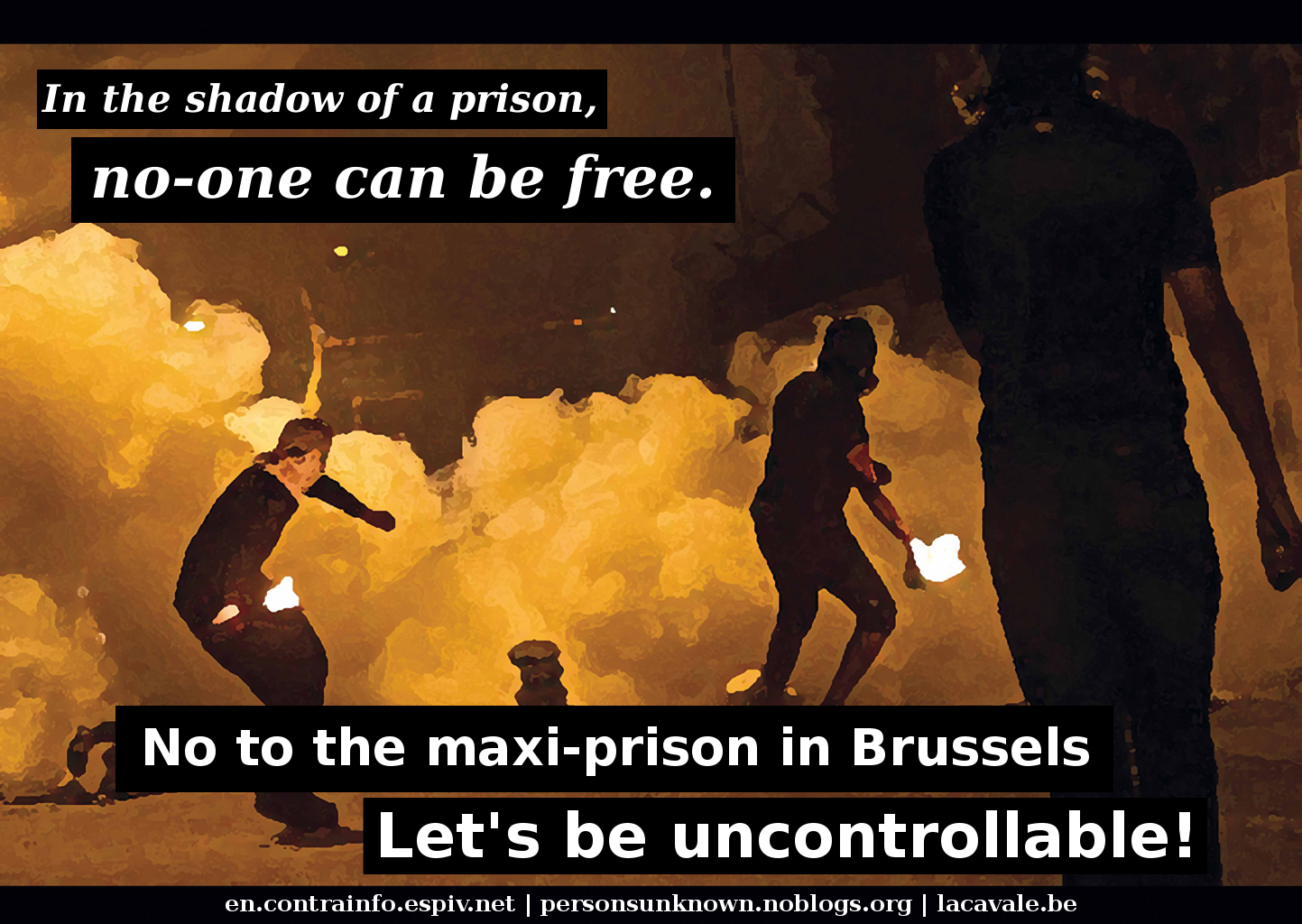 in italiano | στα ελληνικά |
——————————————————————————————————————–
in italiano da Informa-Azoine:
La lotta contro il mega-carcere di Brussel: una cronologia di attacchi e opposizione
PDF links (alta risoluzione, bassa risoluzione, stampa)
Lo Stato belga ha annunciato da qualche tempo l'intenzione di costruire 13 nuove carceri, moderne ed efficienti.
Come parte di questo piano generale, lo Stato vuole edificare un mega-carcere ad Haren, a nord di Brussel. E' studiata per essere la più grande prigione del paese, un'autentica cittadina carceraria che includerebbe cinque diverse galere nello stesso luogo, in grado di contenere almeno 1200 persone tra uomini, donne e bambini.
Mentre il conflitto contro questa mostruosità continua a scatenarsi, la presente pubblicazione di 48 pagine include analisi e una cronologia degli attacchi avvenuti negli ultimi due anni e mezzo di lotta contro questo progetto.
Contenuti
– No a nuove carceri, no alla maxi-prigione di Brussel!
– La lotta contro la costruzione di una maxi-prigione e l'offensiva del potere
– No alla maxi-prigione, né qui, né altrove!
– Ribelliamoci contro la costruzione di una maxi-prigione
– Ai posti di partenza, pronti, via!
– Agli indesiderabili
– Rompere le righe
– Per l'insurrezione
– Sabotaggio
– Agli incontrollabili
– Cronologia degli attacchi e del conflitto
Per la lotta,
Person(s) Unknown Publications
——————————————————————————————————————–
Στάλθηκε στο Inter Arma:
Ο αγώνας ενάντια στις φυλακές υψίστης ασφαλείας στις Βρυξέλλες – Ένα χρονικό επίθεσης και ανταγωνισμού
Το βελγικό κράτος το ανακοινώνει εδώ και καιρό: την κατασκευή δεκατριών νέων, σύγχρονων και αποδοτικών φυλακών.
Ως κομμάτι αυτού του νέου σχεδίου του κράτους, θέλει να κατασκευάσει μια φυλακή υψίστης ασφαλείας στο Harren, στις βόρειες Βρυξέλλες. Ο σκοπός είναι να γίνει η μεγαλύτερη φυλακή της χώρας, μια κανονική πόλη-φυλακή, που θα συμπεριλαμβάνει 5 διαφορετικές φυλακές στο ίδιο μέρος. Στη συνέχεια, θα φυλακίσει τουλάχιστον 1.200 άνδρες, γυναίκες και παιδιά.
Με τον αγώνα ενάντια στην κατασκευή αυτού του τερατουργήματος να μαίνεται, αυτή η έκδοση 48 σελίδων εμπεριέχει αναλύσεις και ένα χρονικό των τελευταίων 2,5 χρόνων αγώνα ενάντια σε αυτό το εγχείρημα.
Περιεχόμενα
– Καμιά νέα φυλακή, καμιά φυλακή υψίστης ασφαλείας στις Βρυξέλλες!
– Ο αγώνας ενάντια στην κατασκευή φυλακών υψίστης ασφαλείας και την επίθεση της εξουσίας
– Καμιά φυλακή υψίστης ασφαλείας, ούτε εδώ, ούτε πουθενά!
– Ας εξεγερθούμε ενάντια στην κατασκευή μιας φυλακής υψίστης ασφαλείας
– Στις θέσεις σας, έτοιμοι, πάμε!
– Προς τους ανεπιθύμητους
– Σπάστε τις γραμμές
– Για την εξέγερση
– Σαμποτάζ
– Προς τους ανεξέλεγκτους
– Χρονικό επίθεσης και ανταγωνισμού
PDF (αγγλικά)
Για τον ανταγωνιστικό αγώνα,
Εκδόσεις Αγνώστου(ων)